Sustainable Research
ONGOING RESEARCH CONDUCTED BY THE ORCA FOUNDATION
ORCA aims to raise awareness and interest in marine conservation issues in Plettenberg Bay and support applied research that informs management authorities with scientific advice when making decisions concerning the conservation of local marine species. ORCA exposes volunteers to local marine research, conservation and community education initiatives and teaches young children about the value of our oceans.
Projects
Boat-Based Humpback Dolphin Surveys
The Indian Ocean humpback dolphin was recently listed as endangered in South African waters and faces a number of anthropogenic threats due to its preference for shallow coastal waters. With an estimated population size of less than 500 individuals, it is considered to be South Africa's most endangered resident marine mammal. Boat-based surveys are conducted 4 times a month to collect sighting and photo-identification data. Data will contribute towards an existing collaborative research project of the Nelson Mandela University, which aims to increase our knowledge of this species, assess trends in population numbers and inform conservation management decisions with scientific advice.
Cliff-Top Monitoring of Seals, Sharks, Whales and Dolphins in the Robberg Peninsula Marine Protected Area
Hikes out on Robberg Peninsula are regularly carried out to perform observation sessions from designated cliff-top monitoring sites. From here environmental conditions and the presence and behaviour of seals, sharks, whales, dolphins, tourism vessels and shore anglers within the Robberg Marine Protected Area are recorded. The information will be used to monitor seal-shark interactions and the importance of the marine protected area to marine mammals and the tourism industry.
Opportunistic Boat-Based Surveys with Ocean Blue Adventures
Opportunistic sightings of marine animals such as whales, dolphins, seals, sharks and seabirds are recorded on Ocean Blue Adventure's commercial whale and dolphin watching boat trips. When whales and dolphins are encountered dorsal fin photographs for photo-identification research are taken. Sightings of injured, entangled or vagrant seals hauled out on Robberg Peninsula are also photographed and recorded. All data is intended for use in existing collaborative research and citizen science projects, and will provide us with information on aspects such as the spatial distribution of various species within the bay, individual movement patterns, changes in group sizes, population health, predator-prey interactions and human-wildlife interactions.
Marine Mammal Stranding Response and Necropsy
ORCA occasionally attends to dead whales, dolphins and seals ashore to assist  biologists with scientific dissections and the collection of samples for research. Samples are transported to the Port Elizabeth Museum on a monthly basis where they are used in various ongoing studies on marine mammal morphology, taxonomy, population structure, diet, health, fisheries interactions and predator- prey interactions. Rarely, we also get the opportunity to assist with events involving live seals ashore to capture, tag, move and/or release them. Stranding events involving live dolphins or whales are extremely rare.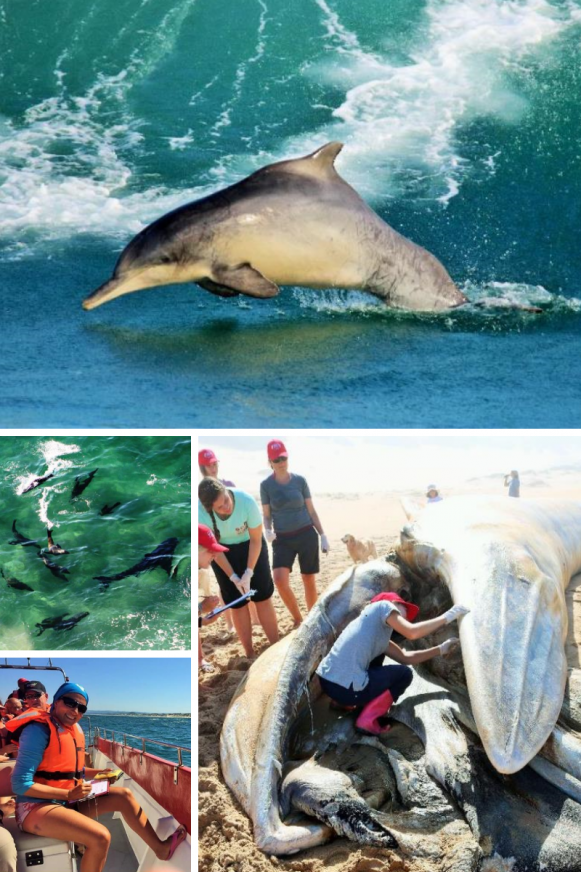 Boat-Based Monitoring of Cape fur seals in the Keurbooms River Estuary
Dedicated boat-based surveys to record the presence, individual identity and behaviour of Cape fur seals that frequent the Keurbooms river estuary are carried out. Using photo- ID techniques individuals with unique flipper scars are identified. Prey species will also be identified from photos taken during predation events. With this, biologists aim to determine whether individual seals specialize in feeding on estuarine fish species, and whether their behaviour is seasonal, tidal, sex or age specific. The study further aims to place the impact of river seals into context with current recreational fishing pressure, which is also recorded.